Trips history
Trips with departure, destination, time and date, fuel cost, carbon emission, distance traveled, duration, speed, number of stops, and driving scores.
Respect for privacy
You have the choice to activate the automatic recording of the trips, and to delete available trips in the history.
By default the trips are in private mode, you can by simple click classify professionals and generate the expense card for your professional reimbursements.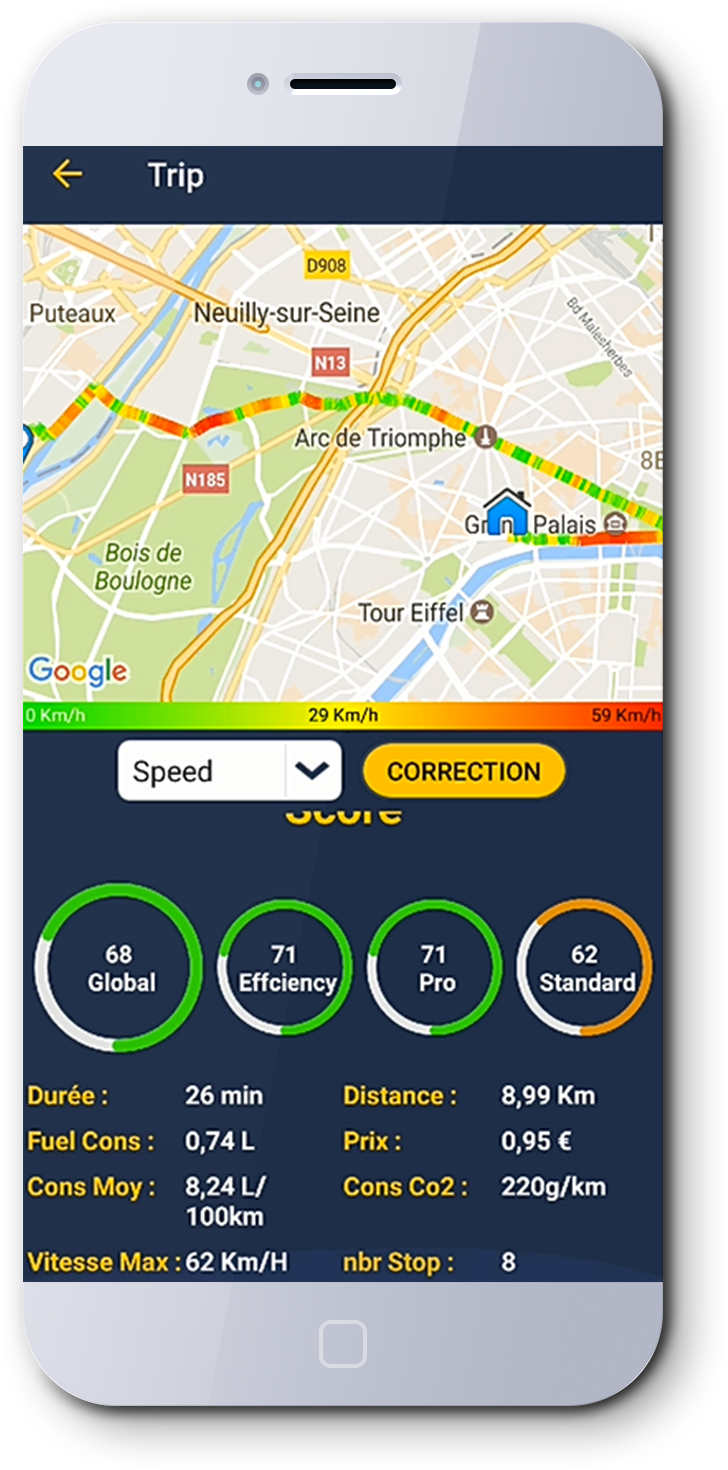 Monitor the health of your vehicle
CARALGO diagnoses your vehicle every time you start and alerts you. It displays the detected faults, and gives a detailed description for each fault, error code and severity.
Delete DTCs
The Diagnostics function lists the fault codes DTCs present in the vehicle and gives you access to the detailed descriptions of each code, so that you can intervene on the vehicle and carry out repairs. Once the soure of the defects disappeared, you can erase the faults memorized by the vehicle and thus turn off the MIL warning light engine on the dashboard.
Reduce fuel consumption by 20%
The driving scores are calculated by algorithms from our research. The analysis of driving is done according to several criteria: energy efficiency, economic efficiency and driving behavior of the driver. CarAlgo calculates for each trip three scores from the above criteria, the average of these scores, to allow you to improve and thus reduce your fuel consumption and your carbon emission
View real-time vehicle data
To optimize your driving, reduce your fuel consumption, and reduce your carbon footprint, you have a driving screen for displaying vehicle usage data in real time, useful to better dose your acceleration, braking and shifting.

So, when starting up, move quickly the gearbox at higher speeds, drive at a constant speed, anticipate stops and use your engine brake.